New 811A tubes have inconsistent cut-off characteristics. This is similar to the Svetlana 572B behavior differences in Yaesu amplifiers, where tubes oscillate on standby. People blame this on higher tube mu or transconductance, but the problem really centers around cutoff bias characteristics. Tubes behave like they are lower mu for cutoff, like a semi-remote control grid used in tubes designed for AGC controlled stages.
Occasionally this causes 811amplifiers to make receiver noises, like a popping or broadband noise. This noise might also be heard from the rear panel area of the amplifier as a very faint buzzing, ticking, or clicking noise. The noise may or may not change as BAND, PLATE, and LOAD settings are changed. This noise happens only on standby. If the amplifier includes gas protection tubes on the filaments, the gas tubes may fire during the noise periods.
This problem took a while to locate, because I could not initially replicate the problem. After the problem was initially located, tubes starting arriving with different characteristics.
This problem appears to be related to the cutoff characteristics of the 811A tubes. I plotted the plate current with various bias voltages at this page 811A tubes . Tubes with sharper cutoff have the oscillation issue below. Because of tube variability, a three-tier approach is best.
There have been no reported problems when the mods below are included:
1.) Be sure your amplifier has gas clamp tubes. This protects the amplifier T/R relay and exciter if tubes have a hard arc

2.) Be sure any un-neutralized 811 amplifier has the damping resistor discussed below. This is primarily for the AL811, not the AL811H, although it may not be a bad idea for either

3.) Be sure your amplifier has forced positive bias of about 40 volts. This is accomplished with a high impedance voltage divider across the lower electrolytic.
Bias Mod
Some recent 811A tubes have an unusual remote cutoff, and will not fully cut off with normal cathode self-bias. In this case the simplest modification is to add a 11.5:1 very high resistance divider, 750K 2 watt metal type and 100K in series.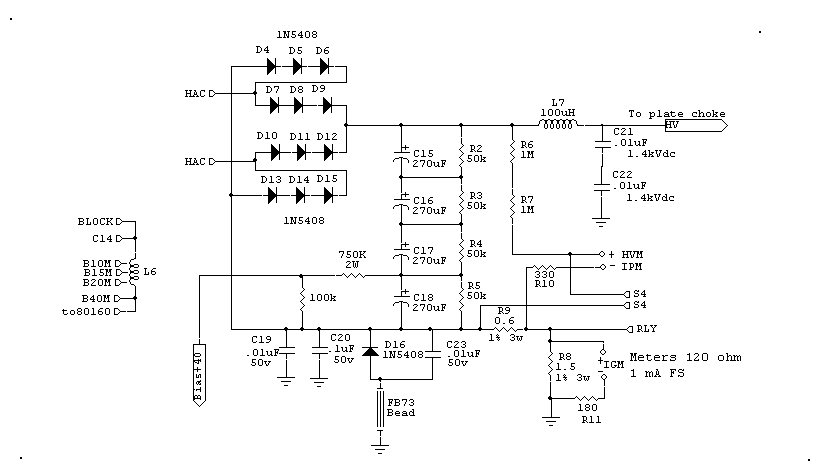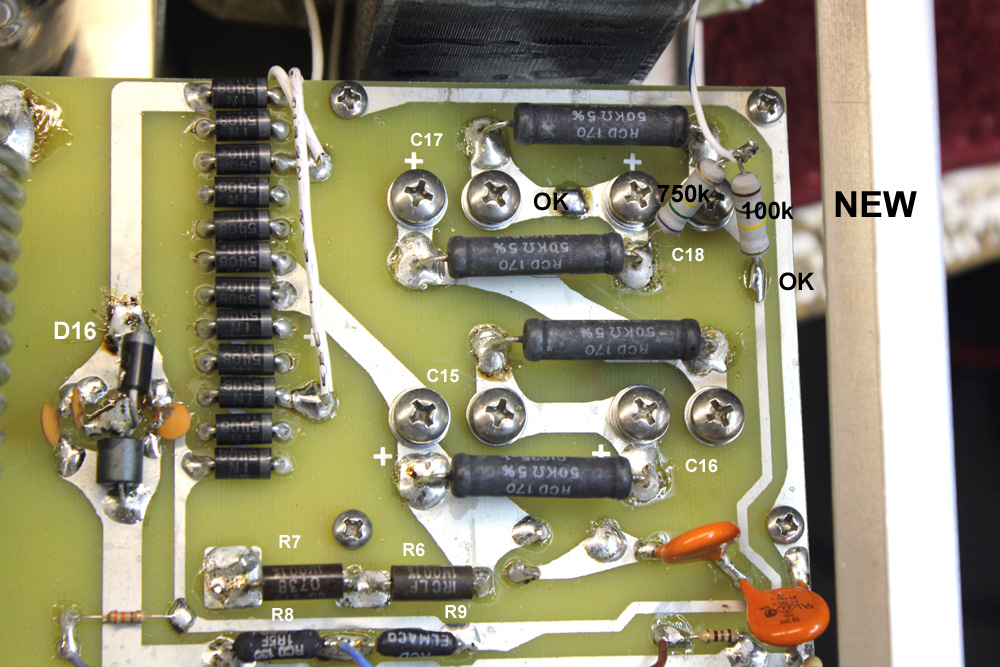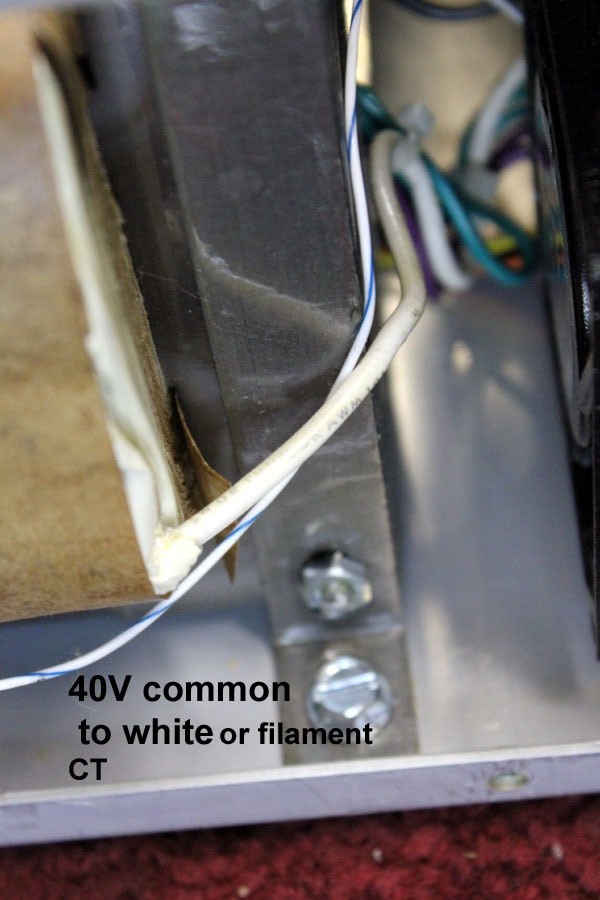 Center of 100k and 750k connect to white filament CT wire
Measurements
The acoustical noise comes from the ceramic disc capacitors normal piezoelectric effects. All of the .01 µF disc capacitors in the filament system, all four located on the rear panel circuit board, are involved. This is normal when a ceramic capacitor is subjected to very large voltage swings, and not an indication the capacitors are defective.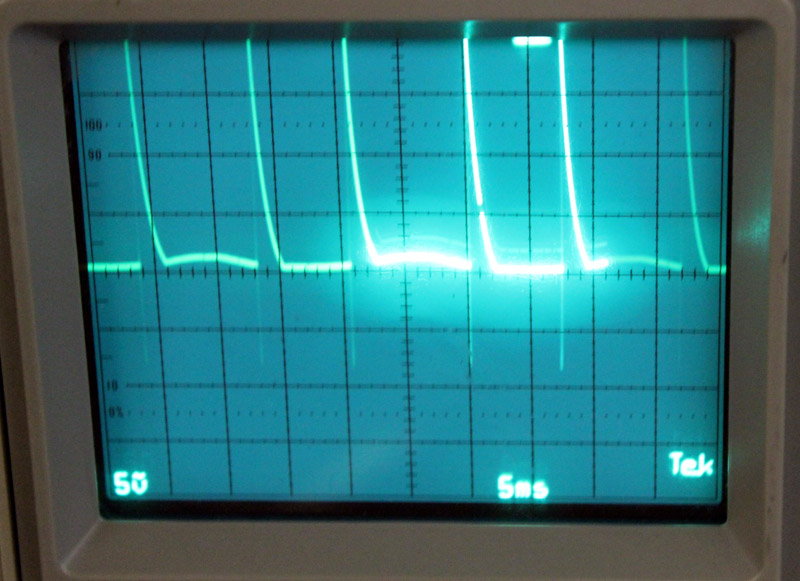 This scale is 50 volts per division. The sawtooth cathode voltage reaches 90 volts negative, and exceeds 200 volts positive, with the scope centered on zero volts.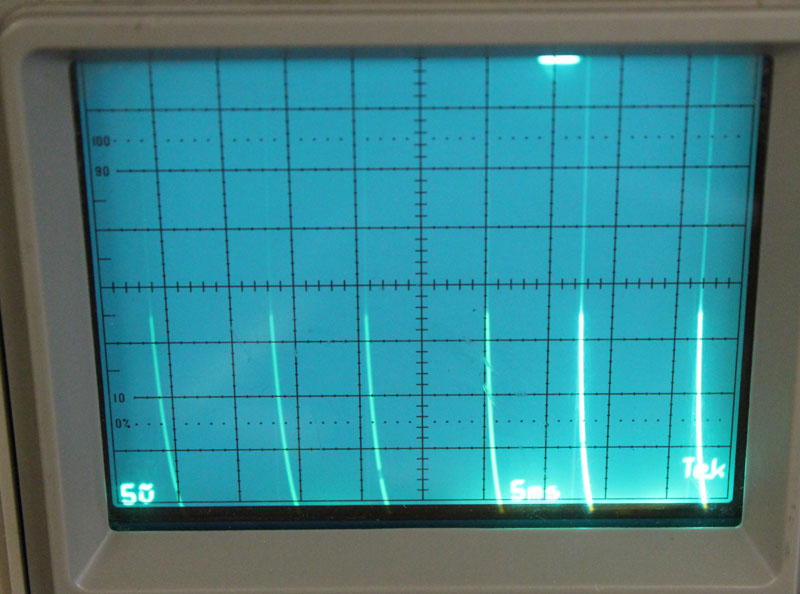 Peak positive voltages exceed 450 volts.
A 4.7K RF load resistor on the filament pin, R100 below, stabilized these tubes in the original AL811 circuit. Unfortunately, there is no assurance it will stabilize all tubes in all amplifiers. Because this is the only tube combination I have seen, I am basing this on a sample of only three tubes. Note that the FL2100 has stability issues with some tube types while on standby. These mods might help the FL2100, or they might not. This modification certainly will not hurt any 811 or 572B amplifier system.
I also disconnected the coaxial line from the tank to the rear panel circuit board, to be sure RF feedback was not occurring from output to input through the T/R relays. Disconnecting the coax made no difference. Loading the tank output with a low value resistance stabilized the amplifier, and eliminated the sawtooth.
Although 4.7K ohms stabilized this system, in my opinion it would be better to load the cathodes as heavy as possible. The AL811 will eventually switch to a pair of 200 ohm resistors in parallel (~30 watts each). This should allow use of very sharp cutoff tubes and increase the required drive level, but will also require tuned input circuit changes.

It is better to add something, even if imperfect, to RF-load the RF path at the filament in all 811 amps and 572B amps. This is because of production inconsistencies
(variations) in 811A tubes. We can reasonably assume 572B tubes, since they use the same grid assembly and filament, also have this problem.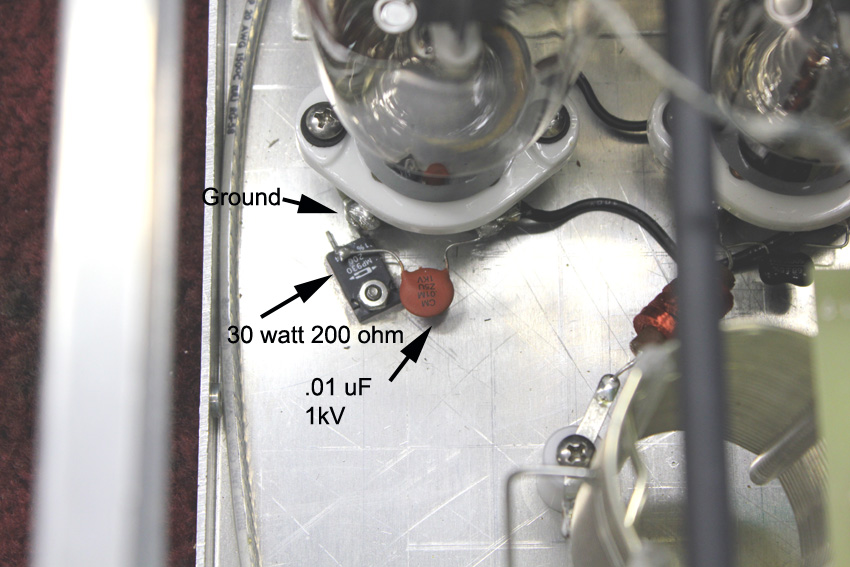 Resistor Value and Power
Worse case peak RF cathode voltage is 100 volts. Typically, at full drive, average cathode RF voltage is around 75 volts. This is why I chose 150-volt breakdown gas tubes to protect the radio. If your amplifier has gas clamp tubes installed, and if they are firing, there is an abnormal reason they are firing. It is always better to find the reason for activation than to remove protection.
Using 100+ volts peak, or 75 volts RMS, as cathode drive voltage at the cathodes, the safe resistor power should be

where E is RMS voltage.
| | |
| --- | --- |
| 2.7K | 2 watts |
| 1.0K | 6 watts |
| 470 | 12 watts |
| 200 | 28 watts |
The added resistor should be a low-inductance metal oxide type resistor. Any net resistance above 200 ohms will have minimal effect on input SWR, and not require more than a slight retouch of tuned input tuning slug position. The load resistor could be as many as thirteen 2.7K 2-watt metal oxide resistors in parallel. Do not use wire wound resistors, even non-inductive wire wound.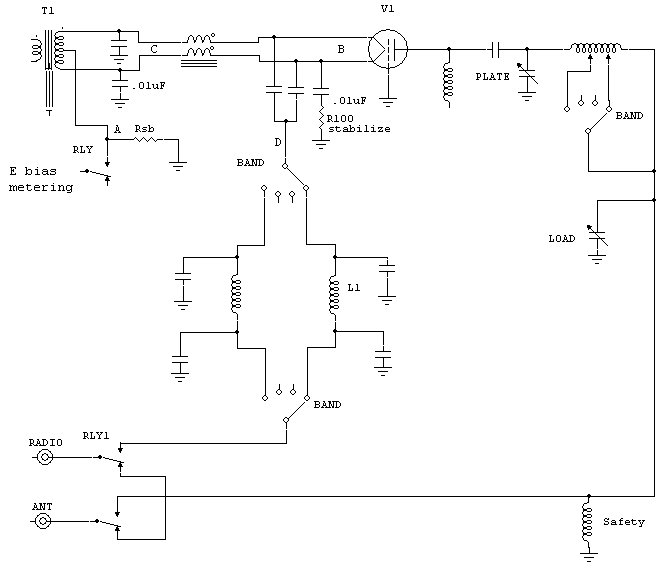 The popping occurs when a sharp cutoff tube has the input and output open circuited. New resistor R100 loads the cathode system of the amplifier, and prevents sharp cutoff tubes from oscillating.
Rsb is the typically seen, but generally unnecessary, self-bias resistor. I rarely use this resistor, installing it only in cases where it actually has a useful function. Adding this resistor makes the problem much worse, so much suggestion would be to never add this resistor, resistor Rsb, on a whim because you think it should have one.
The AL811, without any resistor at Rsb, floats to full plate current cutoff. This is almost always around 40 volts positive. The problem centers around tubes that only develop around 18-20 volts, or less, open circuit self-bias.
The following curves are from 811 tubes that behave normally, and tubes that oscillate with bursts of HF energy while on standby: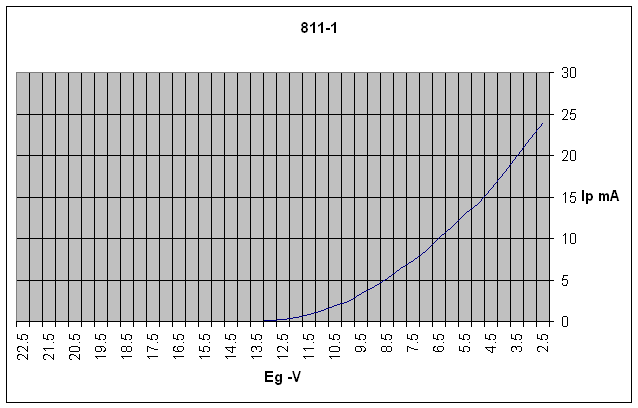 This is an unstable tube that breaks into oscillation. It self-biases into total cutoff at about 18 volts. In other words, if the filament center tap return is opened completely, the center tap only rises to about 18 volts positive. A normal tube, at least all the normal samples I have (about 50 tubes of various types), self bias to about 40 volts. This particular tube is unstable on higher HF bands even with a 47K filament CT leak resistance.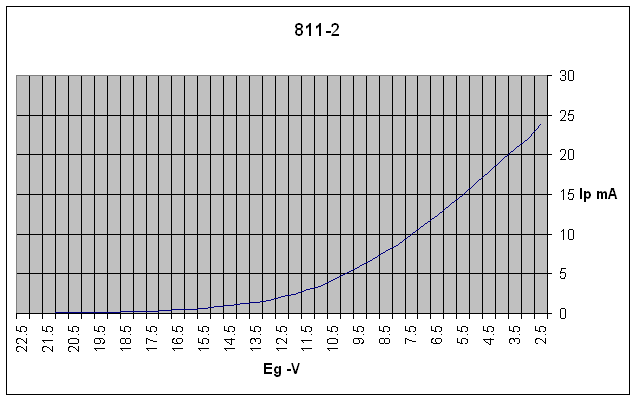 This is the plot of a stable 811A tube. It self-biases off, with a completely open cathode return, at about 40 volts. A totally open filament center tap floats up to +40 volts. This tube is stable at HF with any cathode leak resistance above 2.5 k ohms.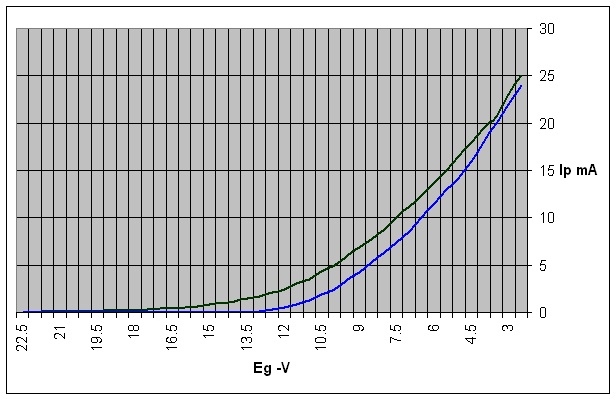 Blue curve is unstable HF tube on standby
Black curve is stable curve HF tube on standby
Note the curves converge and track at about 20 mA. All tubes I have tested have within a few percent same gain at normal drive power levels.